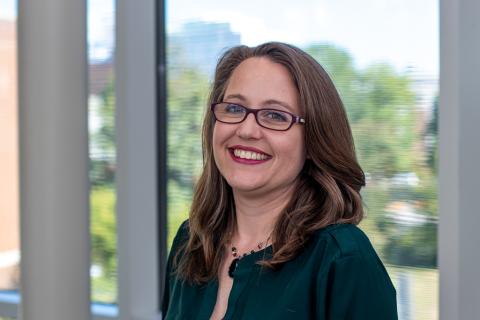 Rebecca Falcasantos
Postdoctoral Fellow
Education
BA, Creighton University
MA, University of Notre Dame
PhD, Brown University
Research Interests
Late Antique Christianity
Ritual and Performance in Late Antiquity
Pilgrimage and Relic Economies
Landscape and Memory in the Built Environment
Religious Diversity and Boundary-Construction 
Religion and Violence 
Women, Gender, and Sexuality in the Ancient Mediterranean 
I am a historian of religion and culture in the ancient and late antique Mediterranean; my research focuses primarily on the intersection of religious practices, rhetoric, and inter-group conflict in the late Roman East. How did individuals negotiate the past surrounding them? How did communal rituals, rhetoric, and violence contribute to the transformations of the fourth and fifth centuries? And how were these changes communicated and contested between the centers of imperial power and the periphery of the empire? These questions drive my research into the cultural changes that occurred during this period both in the heart of the eastern Roman Empire and in the provinces of Cappadocia, Syria, and Palestine. My publications include Constantinople: Ritual, Violence, and Memory in the Making of a Christian Imperial Capital (University of California Press, forthcoming 2020) and articles and essays on late antique pilgrimage, religious violence, and historiography. I am currently working on book that explores late antique church histories as contributors to cultures of violence from antiquity through the modern period, tentatively titled Writing the Christian Past, and a new translation of Socrates of Constantinople's Ecclesiastical History.
Teaching
History of Christianity
Religions and Cultures of the Roman Mediterranean
Syriac Christianity 
New Testament
Biblical Interpretation
Religion and Violence
Pilgrimage
Select​ed Publications
Constantinople: Ritual, Violence, and Memory in the Making of a Christian Imperial Capital (University of California Press; June 2020).
"A School for the Soul: John Chrysostom on Mimesis and the Force of Ritual Habit," in The Garb of Being: Embodiment and Other Pursuits of Holiness in Late Ancient Christianity, edited by Georgia Frank, Andrew S. Jacobs, and Susan R. Holman, 101–23 (Fordham University Press, 2020).
"The City a Palimpsest: Fifth-century Historiography and the Rewriting of Arian Violence," in Heirs of Roman Persecution: Studies on a Christian and Para-Christian Discourse in Late Antiquity, edited by Eric Fournier and Wendy Mayer, 237–54 (Routledge Press, 2019).
"Wandering Wombs, Inspired Intellects: Christian Religious Travel in Late Antiquity," Journal of Early Christian Studies 25.1 (Spring 2017): 89–117.
The Women Jesus Met: Homilies by Jacob of Sarug, translation by Susan Ashbrook Harvey, Sebastian Brock, Reyhan Durmaz, Rebecca Stephens Falcasantos, Michael Payne, and Daniel Picus (Gorgias Press, 2016).