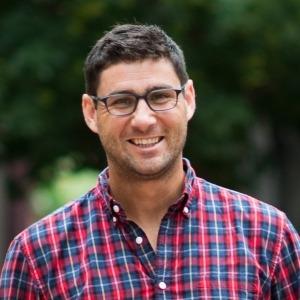 Travis Pickell
PhD 2017. University of Virginia, College of Arts and Sciences, Post-Doc
Education
The College of William & Mary, BA (2006)
Princeton Theological Seminary, MDiv (2011)
University of Virginia, MA (2014)
University of Virginia, PhD (expected 2016)
Research Interests
Biomedical Ethics
Religion and Public Life
Ethics of War and Conflict
Comparative Religious Ethics (Abrahamic Traditions)
Catholic Social Teaching
Environmental Ethics
Teaching
AS INSTRUCTOR OF RECORD
Spring 2014: "Business, Ethics & Society" (RELG2630)
Fall 2014: "Business, Ethics & Society" (RELG2630)
AS HEAD TEACHING ASSISTANT
Fall 2013: "Theology, Ethics & Medicine" (RELG2650), Childress
Spring 2013: "Religion, Ethics & the Environment" (RELG2210), Childress
Fall 2012: "Theology, Ethics & Medicine" (RELG2650), Childress
AS TEACHING ASSISTANT
Spring 2012: "Religious Ethics & Moral Problems" (RELG2300), Mathewes
Fall 2011: "Theology, Ethics & Medicine" (RELG2650), Childress
Publications
"Augustine and Latin Christianity," co-authored with Charles T. Mathewes in The Oxford Handbook of Political Theology, ed. Shaun Casey and Michael Kessler (forthcoming).
"Hearing Holy Saturday," The Ridley Theological Journal 1, no. 1 (forthcoming).
"Choosing My Tradition," The Other Journal 23, no. 5, Special Edition: "Tradition & Traditions" (2014).
 "To See Darkness, To Hear Silence: Saint Augustine, Herman Bavinck & the Incomprehensibility of Evil," The Bavinck Review 2 (2011).
"Thou Hast Given Me a Body: Theological Anthropology and the Virtual Church," The Princeton Theological Review 16, no. 2 (2010).
Book Reviews
"Review of Political Affections: Civic Participation and Moral Theology by Joshua Hordern." Political Theology (forthcoming).
"Review of Constantine Revisited: Leithart, Yoder, and the Constantinian Debate ed. by John Roth." Studies in Christian Ethics 28, no. 1 (February 2015): 124-127.
"Review of Forgiveness and Love by Glen Pettigrove." Studies in Christian Ethics 27, no. 3 (2014): 374-377.
"Review of Christian Ethics: A Guide for the Perplexed by Victor Lee Austin." Theology 117, no. 1 (2014): 67-68.
Digital Teachings Resources
Tom L. Beauchamp and James F. Childress, Principles of Biomedical Ethics, 7th ed., OUP, 2013. "Instructor Resources" and "Student Resources," with Laura Alexander and Matt Puffer.https://jme.bmj.com/content/28/5/332.2.
Ruth Gaare Bernheim, James F. Childress, Alan Melnick, and Richard J. Bonnie, Essentials of Public Health Ethics, Jones & Bartlett, 2013. "Instructor Resources," with Betsy Mesard and Matt Puffer. http://www.jblearning.com/catalog/9780763780463/.
Fellowships, Awards, and Grants
University of Virginia, BB&T Fellowship, 2011-2016.
Tomorrow's Professor Today Program Participant, University of Virginia, 2013-2015.
Institute for Advanced Studies in Culture (IASC), Associate Fellow, 2012-2015.
Course Development Fellowship, University of Virginia "Religion, Ethics & The Environment," 2013.
Emory University Arts & Sciences Graduate Fellowship, 2011 (declined).
PTS Grant, 2008-2011.
Abraham Kuyper Center for Public Theology, Travel Grant, 2010.
The Bavinck Institute, Travel Grant, 2010.
Teaching Ministry Program, Princeton Theological Seminary, 2009-2010.
Memberships in Professional Societies
American Academy of Religion (AAR)
Society of Christian Ethics (SCE)
Comprehensive Exam Areas
Moral, Social, & Political Thought
Islamic Ethics
Catholic Social Teaching
Biomedical Ethics
Christian Ethics