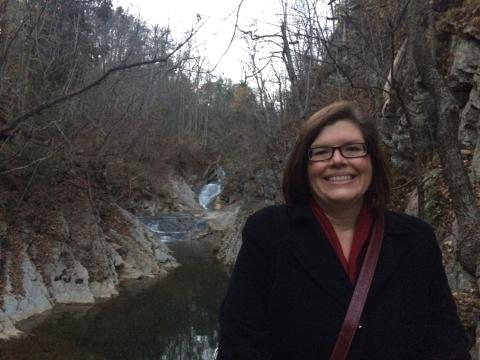 Julie Jenkins
Postdoctoral Fellow
Education
PhD, University of Sussex (Social Anthropology)
MSc, London School of Economics (Social Anthropology & Development)
BA, DePauw University (Anthropology & Sociology)
Research Interests
Religion (indigenous and Christianity); contemporary forms of slavery; human rights; gender inequality; international development and aid; non-governmental organizational practices (local, international, and faith-based); visual and media representation; historical perspectives on slavery and anti-slavery movements; ethnohistory; perceptions of vulnerability, health, and wellbeing; Anthropology of West Africa; Ghana.
My research examines the intersection between West African indigenous religions and transnational flows of ideas and resources centered on human rights and contemporary forms of slavery. This work is centered upon a female religious affiliation in the south-eastern Volta Region of Ghana known as trokosi or fiasidi, which is commonly described as a form of female ritual slavery and has become the subject of an extensive transnational abolition campaign, as well as a counter-campaign that contests the representation of the affiliation as slavery. One aspect of this research looks at how meaning about the initiates is created and legitimized, especially in ritual contexts, at the interface of these larger debates about human rights, gender inequality, personhood and the relationship between indigenous religion and Christianity. My present book project explores how the concepts of human rights and slavery are interpreted and mobilized by those involved, ranging from the initiates and religious specialists targeted for intervention, secular and faith-based NGOs, and international organizations.  
Teaching
Religion & Inequality in Africa
Religion, Human Rights, & Activism
Afro-Creole Religions in the Americas
My previous teaching also includes the courses: Contemporary Forms of Slavery, Anthropology of International Development, Anthropology of Religion, Religion & Inequality, Introduction to Cultural Anthropology, and Culture, Wealth, & Power in Africa. 
Selected Publications
'Their Children Might be Christians': Initiating Fiasidi and Debating Christianity in Southeastern Ghana. Journal of Religion in Africa. 47(2). 2017.