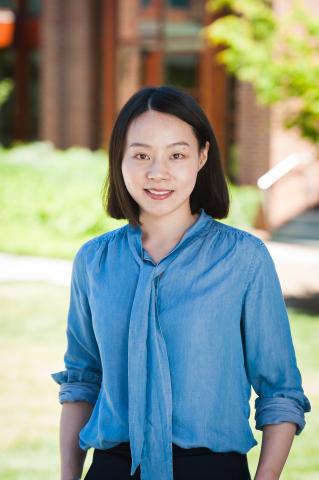 Jue Liang
PhD 2020
Education
Ph.D, University of Virginia, Department of Religious Studies, Buddhist Studies (May 2020, expected)

Dissertation: Conceiving the Mother of Tibet: The Life, Lives, and Afterlife of the Buddhist Saint Yeshe Tsogyel

A.M., University of Chicago, Divinity School, History of Religions (June 2013)
M.A., Renmin University of China, School of Chinese Classics, History

Thesis: Cakrasamvara Literature in the Western Regions and China Proper between the 11th and 14th Century: On Wugou ... and other Cakrasamvara-related materials

B.A., Renmin University of China, School of Chinese Classics, Chinese Literature (July 2009)
Publications
Articles
"Questioning Women: Yeshe Tsogyel and Other Female Disciples in Zhus lan Literature." Revue d'Etudes Tibétaines. (forthcoming 2019)
"Life story across the Himalayas: An Earlier Hagiographical Corpus of Yeshe Tsogyel." Journal of Tibetology. (under review)
Book Chapters
"Songs of Experience (mgur) in the Extensive Liberation Account of Yeshe Tsogyel." Longing to Awaken: Exploring Buddhist Devotion in Tibetan Poetry and Song. (manuscript submitted to Wisdom Publications)
"Branching from the Lotus-Born: Padmasambhava in the Hagiographies of Yeshe Tsogyel." In Geoffrey Samuel and Jamyang Oliphant ed., Padmasambhava: Different Aspects. Garuda Verlag. (forthcoming 2019)
"Cakrasaṃvara Literature in the Western Regions and China Proper between the 11th and 14th Centuries: On Wugou ... and other Cakrasaṃvara-related materials." In Weirong Shen, ed., History through Textual Criticism: Tibetan Buddhism in Central Eurasia and China Proper. Beijing: China Tibetology Press, 2012, 98-129.
Translations
Xu, Fancheng. On the Theory of Pure Consciousness (Weishi jinghua). Trans. Jue Liang. (manuscript submitted to Shanghai Horizon Press)
Dramdul, and Xiong Wenbin. Xylographs in Marvelous Images, Names, Sūtras and Dhāraṇīs of the Buddhas and Bodhisattvas (Zhufo pusa miaoxiang minghao jingzhou): A Precious Heritage of Sino-Tibetan Art Communications in the Ming Dynasty. Trans. Jue Liang. Beijing: China Tibetology Press, 2011.
Luo, Wenhua. Collection of Five Hundred Buddha Images. Trans. Jue Liang. Beijing: China Tibetology Press, 2011.
Book Reviews
Review of Buddhist Feminisms and Femininities. Edited by Karma Lekshe Tsomo. Buddhadharma, Fall 2019 Issue.
Review of Wörterbuch der tibetischen Schriftsprache. By Petra Maurer and Johannes Schneider. Bulletin of the School of Oriental and African Studies, vol. 78, no. 2 (2015), 405-408.
Research Interests
In my work, I reflect on continuities and discontinuities in the transmission of East and South Asian religious traditions, Buddhism in particular. This reflection makes use of and brings together multiple aspects of a religion, including its literary, linguistic, ritual, cultural, or material representations. I am also interested in the role gender, sexuality, and body plays in this transmission process. On a broader level, I examine the dialectic relationship between these contexualized elements and a transnational narrative for transcendental teaching and practice.
TEACHING INTERESTS AND EXPERIENCE
Buddhism, Hinduism, tantra, Asian religions, literature and hagiography, religion and gender, religion and body, translation and transmission.
Lecturer, University of Virginia
            Spring 2019    RELB2715      Introduction to Chinese Religions
            Fall 2018         RELB3150      Seminar on Buddhism and Gender
Instructor, Sichuan University
            Spring 2018    Advanced Literary Tibetan
Teaching Assistant, University of Virginia
            Fall 2016         RELB 2054     Tibetan Buddhism Introduction (dual teaching load)
            Spring 2015    RELG 1040     Introduction to Eastern Religious Traditions 
            Fall 2014         RELH 2090     Hinduism                               
            Spring 2014    RELB 2450     Zen     
Pedagogical Training:
Tomorrow's Professor Today, University of Virginia, 2018-19
A yearlong professional development program for graduate students and postdoctoral fellows.
Fellowships and Grants
Robert H. N. Ho Family Foundation Dissertation Fellowship in Buddhist Studies (2019-2020)

American Academy of Religion Annual Meeting Travel Grant (2019)

Conference Travel Funding, Department of Religious Studies, University of Virginia (2019)

Ellen Bayard Weedon Travel Grant, University of Virginia (2019)

Huskey Graduate Research Symposium Honorarium, University of Virginia (2019)

Conference Travel Funding, Department of Religious Studies, University of Virginia (2018)

John S. Lillard Jefferson Fellow, Jefferson Scholars Foundation (2017-2019)

Henry Luce Foundation/ACLS Program in China Studies Predissertation Summer Travel Grant (2016)

Conference Travel Funding, Department of Religious Studies, University of Virginia (2016)

Arts, Humanities and Social Sciences (AHSS) Summer Research Fellowship, University of Virginia (2015)

Ellen Bayard Weedon Summer Travel Grant, University of Virginia (2014)

Graduate School of Arts and Sciences Summer Foreign Language Fellowships (2014)

University of Chicago Divinity School Tuition Award (2011-2013)