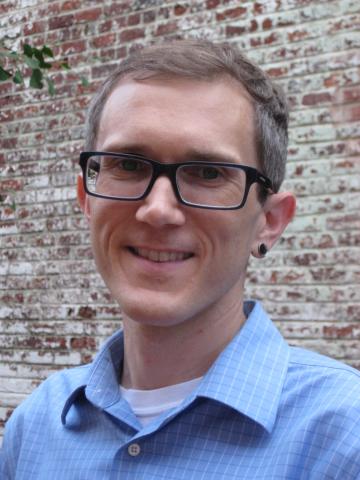 James (Jef) Pierce
PhD 2016
Education
University of Virginia: Ph.D. in History of Religions, South Asia (Projected May 2015)
University of Virginia: M.A. in History of Religions, South Asia (May 2008)
University of Mary Washington: B.A. in Philosophy and Religion (May 2005)
Dissertation
Jef's Ph.D. dissertation, entitled "Exaltation of the Goddess: Narrative Expressions of the Feminine Divine in the Devīpurāṇa," focuses on a subgroup of medieval devotional texts in which the Goddess is for the first time acknowledged as supreme within the Sanskrit Brahmanical milieu. By considering the intertextual relationships of the previously untranslated Devīpurāṇa – a foundational and influential Śākta text – and by drawing out the Tantric elements of the work, his research demonstrates the ways in which the text inherits an orthodox narrative vocabulary but reinvents it for an innovative vision of reality colored by local/indigenous considerations of the powerful feminine divine.
Research Interests
Gender in South Asia
Puranic literature
Religious narrative
Shakta Tantra
Sanskrit poetics
Aesthetic theory
Teaching
MIDDLEBURY COLLEGE, VISITING INSTRUCTOR OF RELIGION (2014-15)
Hindu Traditions of India
South Asian Goddesses
Hinduism in Performance
Hindu Ethics
Tantric Visions of Sex, Death, and Madness
UNIVERSITY OF MARY WASHINGTON, ADJUNCT INSTRUCTOR (2011-13)
UNIVERSITY OF VIRGINIA, INSTRUCTOR (2012)
Fellowships
Jacob K. Javits Fellowship (2009-2014)
Fulbright-Nehru Student Research Fellowship, India (2012-13)
Buckner W. Clay Endowment for the Humanities Grant (2011)
Critical Language Scholarship – Bengali (2011)
AIIS Language Fellowship – Hindi (2008-09)
SASLI FLAS Fellowship – Hindi (2007)
Hai Hung Foundation Scholarship (2002)
Publications
"Review of Sree Padma, Vicissitudes of the Goddess: Reconstructions of the Gramadevata in India's Religious Traditions," Religion (forthcoming).
"Review of Rachel Fell McDermott, Revelry, Rivalry, and Longing for the Goddesses of Bengal: The Fortune of Hindu Festivals," Religion 44, no. 4 (2014): 717-20.
Conference Presentations
"Wilderness as chora: Environmental Ethos in the Śākta Reappraisal of Sāṃkhya." Presentation at Religion and the Natural Elements, Northwestern University; Evanston, Illinois; 31 October – 2 November 2014.
"'kili kili huṃ': The Power of Vidyā in the Devīpurāṇa." Presentation at Ways of Knowing: Graduate Conference on Religion, Harvard Divinity School; Cambridge, Massachusetts; 24-25 October 2013.
"Argumentative, Aged, and Deadly: Portraits of a Divine Mother." Presentation at The South and Central Asia Fulbright Conference; Kochi, India; February 2013.