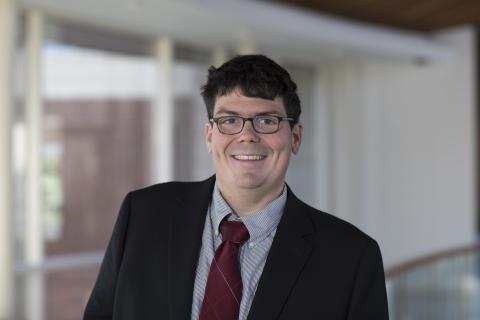 Charles Anthony Gillespie
PhD 2019
Education
University of Virginia: PhD candidate (expected 2018)
Yale Institute of Sacred Music and Yale University Divinity School: MAR concentrated in Religion and Literature (2013)
Villanova University: BAH in Humanities, summa cum laude (2010)
Research Interests 
Charles A. Gillespie is a PhD candidate in the Theology, Ethics, and Culture program. His research broadly locates philosophical and theological questions in contexts of creativity, cultural production, and the arts. He specializes in the areas of Roman Catholic and ecumenical Christian thought; aesthetics, hermeneutics, and critical theory; and religion and literature (narrative and drama). His dissertation project analyzes the interpretive work of theatre and performance in Hans Urs von Balthasar's Theo-Drama and other dramatically inclined twentieth-century Christian theologians. In addition to conference presentations in North America and Europe, his work is published in Theatre Symposium and Union Seminary Quarterly Review. He is also a theatre-maker: acting and directing for local and semi-professional productions and co-founder of Theatrum Sacrum, an experimental ensemble based in New York.
Teaching and Research
Co-Teacher of Record at the University of Virginia

RELG 3600: Religion and Modern Theater. Co-taught undergraduate seminar with Prof. Larry Bouchard. Spring 2016.

Teaching Assistant at the University of Virginia

RELC 2360: Elements of Christian Thought. Prof. Paul Dafydd Jones. Fall 2014 and Fall 2015. Delivered annual lecture on Thomas Aquinas and naming God in Summa Theologiae I.Q13
RELC 2460: The Spirit of Catholicism. Prof. Gerald Fogarty, S.J. Spring 2014 and Spring 2015. Delivered lectures on "The Church in the Modern World" and theology in church architecture and design
RELG 1010: Introduction to Western Religious Traditions. Prof. Heather Warren. Fall 2013.

Research Assistant

Prof. Katherine Sonderegger (Virginia Theological Seminary, Alexandria, VA). Systematic Theology: Volume 1, The Doctrine of God. (Minneapolis, MN: Fortress, 2015).