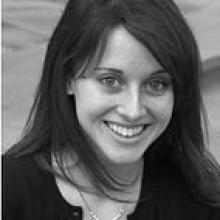 Ashleigh Elser
PhD 2017. Valparaiso University, Lilly Fellows Post-Doc
Education
Yale Divinity School: MA in Religion, Concentration in Religion and the Arts, May 2011.
University of Virginia: PhD in Religious Studies--Scripture Interpretation and Practice, to be completed May 2017.
Research Interests
Ashleigh Elser is a PhD candidate in Scripture, Interpretation, and Practice. She is interested in a comparative approach to the reading practice of sacred texts and the way in which modes of reasoning apprentice readers to particular understandings of religious subjectivity. Her work focuses on reader formation and scriptural hermeneutics in Judaism and Christianity, literary approaches to the Bible and responses to the rise of the historical-critical method in biblical scholarship.
Teaching
Spring 2011: Teaching Fellow for PHIL 329: Kierkegaard and the Examined Life with David Possen (Yale)
Fall 2012: Teaching Assistant for RELJ/C 1210: Hebrew Bible/Old Testament with Martien Halvorson-Taylor
Spring 2013: Teaching Assistant for RELG 2190: Religion and Modern Fiction with Larry Bouchard
Fall 2013: Teaching Assistant for RELC 2559: Kingdom of God in America with Charles Marsh
Spring 2014: Teaching Assistant for RELG 2160: Religion in American Life and Thought from 1865 to the Present with Heather Warren
Fall 2014: Teaching Assistant for RELC 2360: Elements of Christian Thought with Paul Jones
Summer 2016: Sole Instructor for RELC 2559: Speaking in Parables: The Role of Fiction in Christian Thought
Fall 2016: Sole Instructor for COLA 1500: Thirteen Ways of Looking at an Ancient Text 
Fellowships
Louisville Dissertation Fellowship, Louisville Institute (2016-2017)
Marc and Nancy Shrier Jefferson Fellowship, University of Virginia (2011-2016)
Rare Books School Fellowship (2016) 
Rachel Winer Manin Graduate Fellowship in Jewish Studies, University of Virginia (2011-2015)
Two Brothers Travel Fellowship, Yale Divinity School (2011)
Presentations
"Beyond the Breach: What Literary Readers of the Bible Might Learn From Higher Criticism" at the International Society for Religion, Literature and Culture Conference, Glasgow, Scotland (2016)
"Revisiting Friction in Biblical Literature" at the Conference of Christianity and Literature, Riverside, CA (2016) 
"Halivni as Reparative Reader" at the American Academy of Religion, Baltimore, MD (2013)
Respondent to David Gushee at the Gunst Colloquium for Jewish Studies, Charlottesville, VA (2013)
"Scriptural Reasoning and Environmental Ethics" at the Mideastern American Academy of Religion Regional Meetings, New Brunswick, NJ (2012)