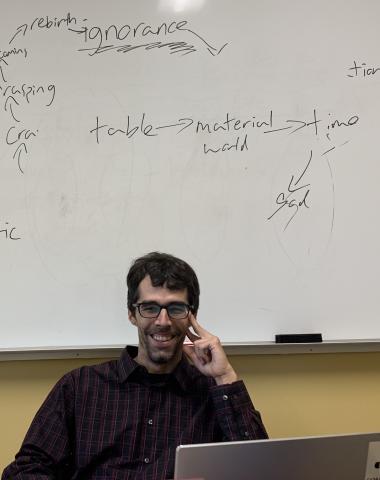 Andrew Steven Taylor
PhD 2021
Education
University of Virginia - PhD Candidate, Religious Studies (Current)
Harvard Divinity School - MTS Buddhist Studies
Guilford College - BA with Highest Honors, Religious Studies
Andrew Taylor's research draws on feminist epistemologies to reimagine comparative religion as both a field and a method. His dissertation juxtaposes the ecumenical discourses of the Tibetan Buddhist Jamgön Kongtrül (1813-99) and the Quaker mystic Rufus Jones (1863-1948) in hopes of modeling a new form of comparison that redresses the critiques of the enterprise's postmodern discontents. Most importantly, Andrew's great-grandmother once said of him, "He uses his noggin for more than just a hat rack."
Research Interests
Sino-Tibetan Studies
Buddhist Studies
Comparative Religion
Feminist Theory
American Liberal Religion
Selected Publications
2020. "Tilling the Fields of Merit: The Institutionalization of Feminine Enlightenment in Tibet's First Khenmo Program." With Jue Liang.  Journal of Buddhist Ethics. Vol. 27.
2020. "The Religious Society of Friends (Quakers)." Database of Religious History. Vancouver, British Columbia: University of British Columbia. https://religiondatabase.org/browse/950/.
2020. "Constructing 'Data' in Religious Studies: Examining the Architecture of the Academy." Book review. Religious Studies Review. Vol. 46-2: 211-212.
Selected Fellowships and Awards
Robert H. N. Ho Family Foundation Dissertation Fellowship in Buddhist Studies (2019-20)
Fulbright Open Research Award (2019-20)
Taiwanese Government's Hanyu Enrichment Scholarship (2019)

All-University Graduate Teaching Award (2018-19)

Chinese Governmental Scholarship (2017-18)
Mandarin Training Center (National Taiwan Normal University) Merit Scholarship (2016)
Dean's Fellow, Harvard Divinity School (2012-14)
Fairbanks Center Research Grant (2013)
Research Languages
Classical Tibetan (reading)
Modern Tibetan
Modern Mandarin Chinese
Classical and Literary Chinese (reading)
Sanskrit (reading)
Japanese (reading)
French (reading)
Selected Lectures and Conference Presentations
Celibate Mothers: Motherhood and Gendered Discourse in Contemporary Tibetan Monastic Communities. International Association of Buddhist Studies. Seoul, South Korea. Fall, 2021. (forthcoming)
Implicit and Explicit Comparison in Religious Studies Scholarship: A Collaborative Experiment in the Use of Buddhist Categories. American Academy of Religion. Roundtable participant. Boston, U.S.A. November, 2020. (forthcoming)
The History and Future of Tibet's First Scholar-Nuns. With Liang Jue. Tibet Himalaya Initiative, University of Colorado-Boulder. October, 2020.
康区堪姆课程对性别实践的再想象:从马克思主义与佛教立场认识论出发. (Reimagining Gendered Practice in Khenmo Program in Eastern Tibet: Marxist and Buddhist Standpoint Epistemologies.) Delivered in Chinese. Sichuan University, Invited Lecture. Sichuan University. Chengdu, China. December, 2019.
利美(རིས་མེད་): 教派体系 (གྲུབ་མཐའ་) 与大圆满 (རྫོགས་ཆེན་) 修行. (Ecumenicism as Doxography; Ecumenicism as Practice). Delivered in Chinese. First International Conference on the History and Culture of the Plateau Silk Road. Sichuan University. Chengdu, China. October, 2019.
Revaluing the Inferior Body: Subversive Complementarianism in Modern Khams. American Academy of Religion. Denver, U.S.A. November, 2018.
无教派政治:蒋贡康楚仁波切之利美思想的初步探讨. (The Politics of Nonsectarianism: A Preliminary Investigation of Jamgon Kongtrul's Ris Med). Delivered in Chinese. Sichuan University, Invited Lecture. Chengdu, China. June 2018.
Of Cannibals: The Essay as a Metaphysical Technology. Dalian Minzu University, Invited Lecture. Dalian, China. May 2018.
Translating Epics. Dalian Minzu University, Workshop Keynote. Dalian, China. December, 2017.
The Color and Shape of Gnosis: Embodied and Unembodied Recognitions in Longchenpa's Treasury of the Supreme Vehicle. Shaanxi Normal University: First International Symposium on Tibetan and Himalayan Studies. Xi'an, China. November, 2017.